The rapid growth of India's consumer internet sector is opening up access to financial services for people across all segments of society – and creating unprecedented opportunities for public market investors in the process.
One of these innovations is the India Stack – the backbone of India's digital revolution. Developed by the Indian government, the India Stack is a comprehensive digital identity, payment, and data management systems that is democratizing access to financial services in an economy where retail transactions are heavily cash based and a significant proportion of the population remains unbanked.
A key component of the India Stack is the Aadhar Card, a biometric digital ID card that enables digital onboarding through eKYC, dramatically cutting the cost and paper-based bureaucracy previously involved in this process. A staggering 99 percent of India's 1.3 billion population now holds the Aadhar Card – not only enhancing financial inclusion, but driving a three-fold rise in new broking accounts in FY2021 thanks to the efficiency that comes with eKYC. Meanwhile, the number of credit cards held in India has also demonstrated steady growth, increasing at a CAGR of 23 percent over FY2016 to FY2021.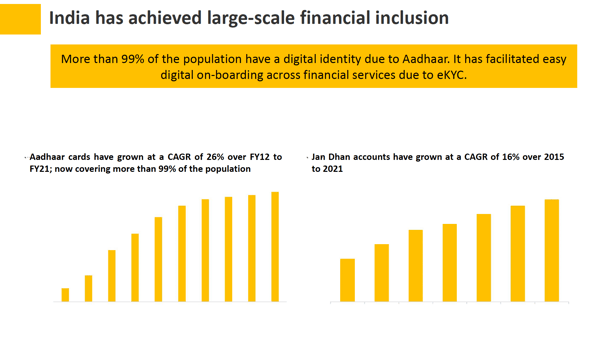 *Source: Hornbill Capital
Alongside this initiative, the government has also created a highly efficient payment infrastructure – the Universal Payment Interface (UPI) – which enables seamless transfer of money from one bank account to another. These low-friction digital payments have seen electronic payments rise to account for 62 percent of total retail payments at FY2021 from just 18 percent at FY2011.
A further enabler of consumer tech growth in India is smartphone penetration, which currently stands at 500-600 million. Combined with the cheapest data globally, this has dramatically accelerated internet adoption in India – not only among the English-speaking elites, but right across the board. The number of internet users in India stood at 846 million in 2021, representing a CAGR of around 22 percent between 2010 and 2021. And from FY2014 to FY2021, 4G enabled smartphones in the country grew at a CAGR of around 34 percent.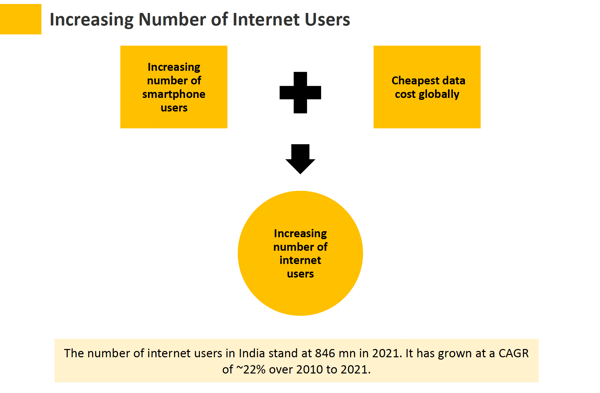 *Source: Hornbill Capital
As smartphone penetration and internet use gathers pace, many industries are reaping the benefits. The online delivery industry provides a compelling case in point here: even taking into account the slump in sales caused by COVID-19, India's online food delivery sector grew at a CAGR of 54 percent from FY2018 to FY2021. What's more, the total number of restaurants represents less than 10 percent of overall food consumption in India – and online food ordering is even lower, at just 8 percent – pointing to clear headroom for further growth in this burgeoning industry.
Seeking out India-specific solutions to India-specific challenges
Adopting the right business model for the fast-growing India market comes with its own specific challenges.
The country is not a one homogenous market: it is a patchwork of different languages, different lifestyles, and different levels of per capita consumption, combined with low average order values and underdeveloped logistics infrastructures.
Simply adopting the same business models that work in the West or in China will not work in India. Unlike China, for example, where usage and consumption has been concentrated among a few super apps catering to diverse needs on the same platform, India has instead seen the emergence of large vertical specialists. And this is where internet companies – and the entrepreneurs that lead them - have achieved standout success by targeting the country's dominant middle-income segment by offering their services at an affordable price point.
India is a special case that requires its own specific solutions. As a result, it's critical that investors in this rapidly evolving market either have a presence on the ground or an in-depth understanding of the dynamics of this unique market – and of the people who have the expertise and skills to solve the challenges that come with it.